General contact details
Leiden Law School
Kamerlingh Onnes Gebouw
Steenschuur 25
2311 ES Leiden
Scroll down to meet the Database Business Ethics team!
Prof. P.F. (Paul) van der Heijden
Paul van der Heijden is currently professor of International Labour Law at Leiden University.
He studied law in Amsterdam (LLM) and Leiden (PhD), was a judge at the Amsterdam District Court, was professor of Labour Law in Groningen, Amsterdam, Bielefeld (Germany), Ghent (Belgium) and Leiden. He served as Dean of the Law School and Rector Magnificus at the University of Amsterdam. He was Rector and President of the Executive Board of Leiden University.
His research is aimed at public and private enforcement mechanisms of Fundamental Rights at Work.
Paul van der Heijden was active in the International Labour Organisation (ILO) for 22 years, and from 2002 - 2017 served as the independent president of the Committee on Freedom of Association (CFA).
Dr. M.Y.H.G (Yvonne) Erkens
Yvonne Erkens works as an associate professor of Labour Law at Leiden University.
After she graduated at Leiden Law School, she was an assistant professor of Labour Law at Leiden Law School and Erasmus School of Law Rotterdam. She practiced labour law as a lawyer in The Hague and Leiden and stood, working for an employers' association, at the base of several collective labour agreements. Since 2004 she works fulltime at Leiden Law School, where she defended her thesis on labour law adjudication in 2013.
Her research is aimed at dispute settlement mechanisms and public and private enforcement of fundamental labour rights.
Yvonne Erkens holds various ancillary positions. She is a part-time labour court judge and chair of the Commission on Research Integrity of Leiden University and the Leiden University Medical Centre (LUMC).
S.E.M (Sarah) Vandenbroucke LLM
Sarah Vandenbroucke started working at Leiden University as a promovendus in March 2020, in the department of Business Studies and Labour Law. Her PhD research entitled "Compliance with fundamental labor rights through codes of conduct in the global supply chain" addresses the topics of Corporate Social Responsibility and Business Ethics by investigating the effectiveness of corporate self-regulation. With this PhD in Empirical Legal Studies, she intends to analyze big data using the Database of Business Ethics. The Database will expand and be fueled by a large-scale data collection adapted to the research questions raised in the PhD.
Sarah pursued her bachelor's degree in law in France (Lille), then obtained a Master in European Law from Leiden Law School in 2017 and a Master in European Labor Studies from Amsterdam Graduate School of Social Sciences in 2018. Before joining Leiden University, she worked in New Delhi (India) for the ILO regional office for South Asia.
I.H.E. (Ingeborg) de Koningh
Ingeborg de Koningh works as a student assistant at the Department of Labour Law at Leiden University, specifically for the Database of Business Ethics.
Ingeborg is a master student of Public International Law (LLM) at Leiden Law School. She holds a LLB and a BSc Liberal Arts and Sciences: Global Challenges with a major in Governance, Economics and Development from Leiden University College The Hague.
A. (Alina-Elizabeth) Guzun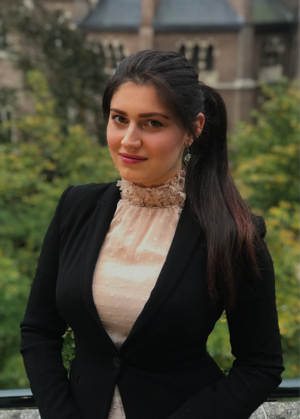 Alina-Elizabeth Guzun is a law graduate and a human rights enthousiast. She holds a Master (LL.M.) in Criminal Law and a Master (LL.M.) in Transnational Legal Studies obtained at Vrije Universiteit of Amsterdam. She joined the Database Business Ethics team in 2019 and since then she is conducting research on topics related to business ethics and is managing the newsletter. Before relocating to the Netherlands, Elizabeth worked as a programme officer for the National Institute of Justice (Republic of Moldova).